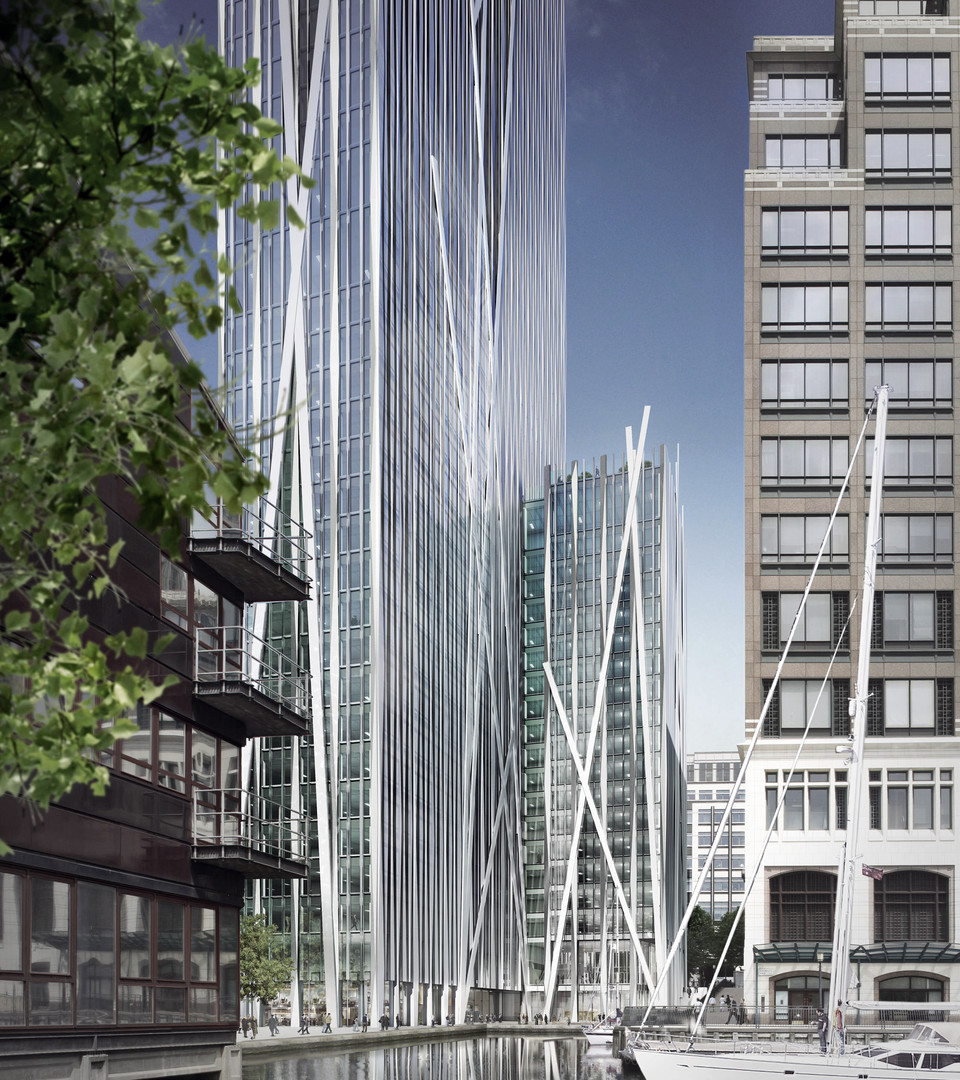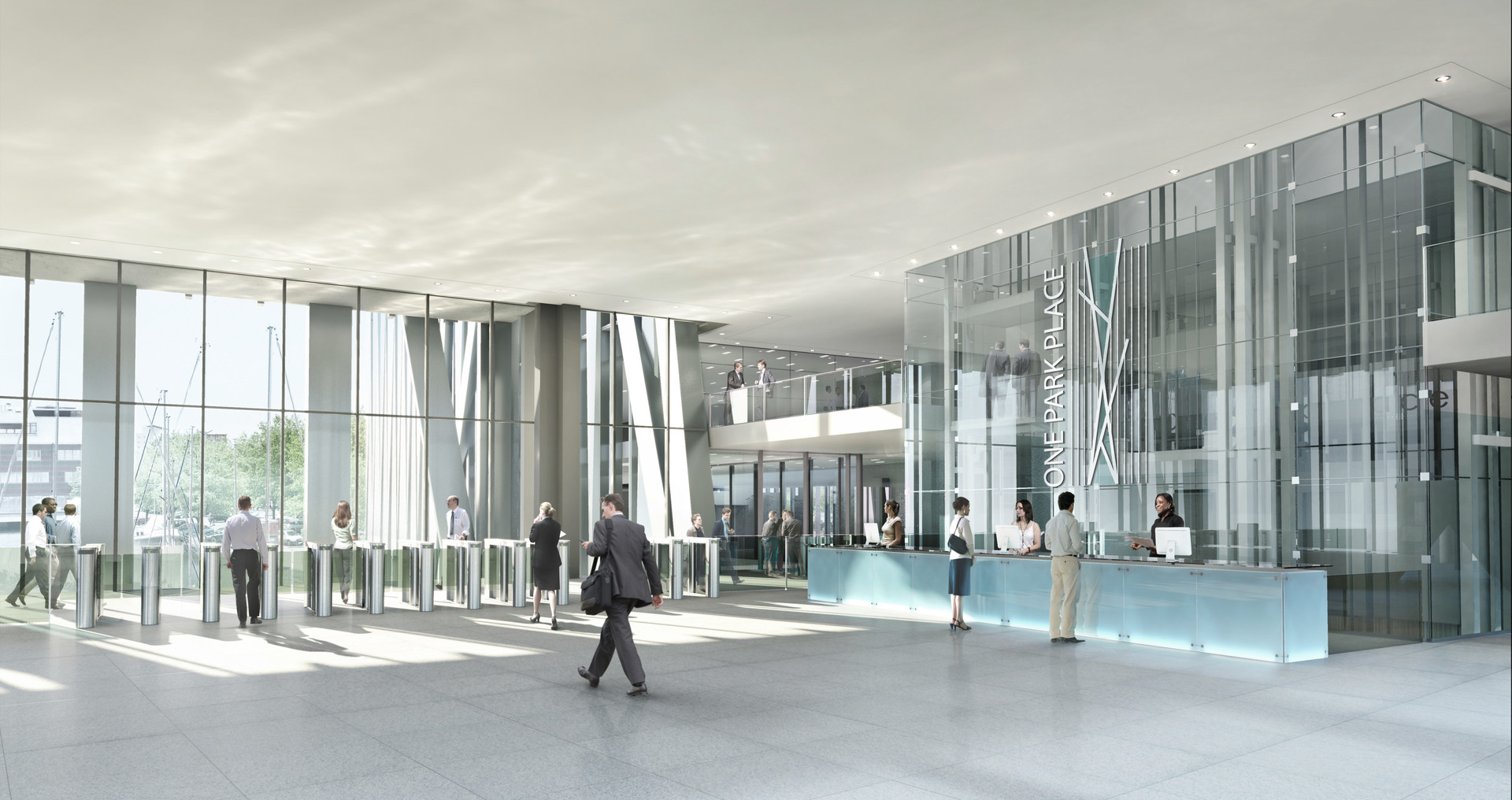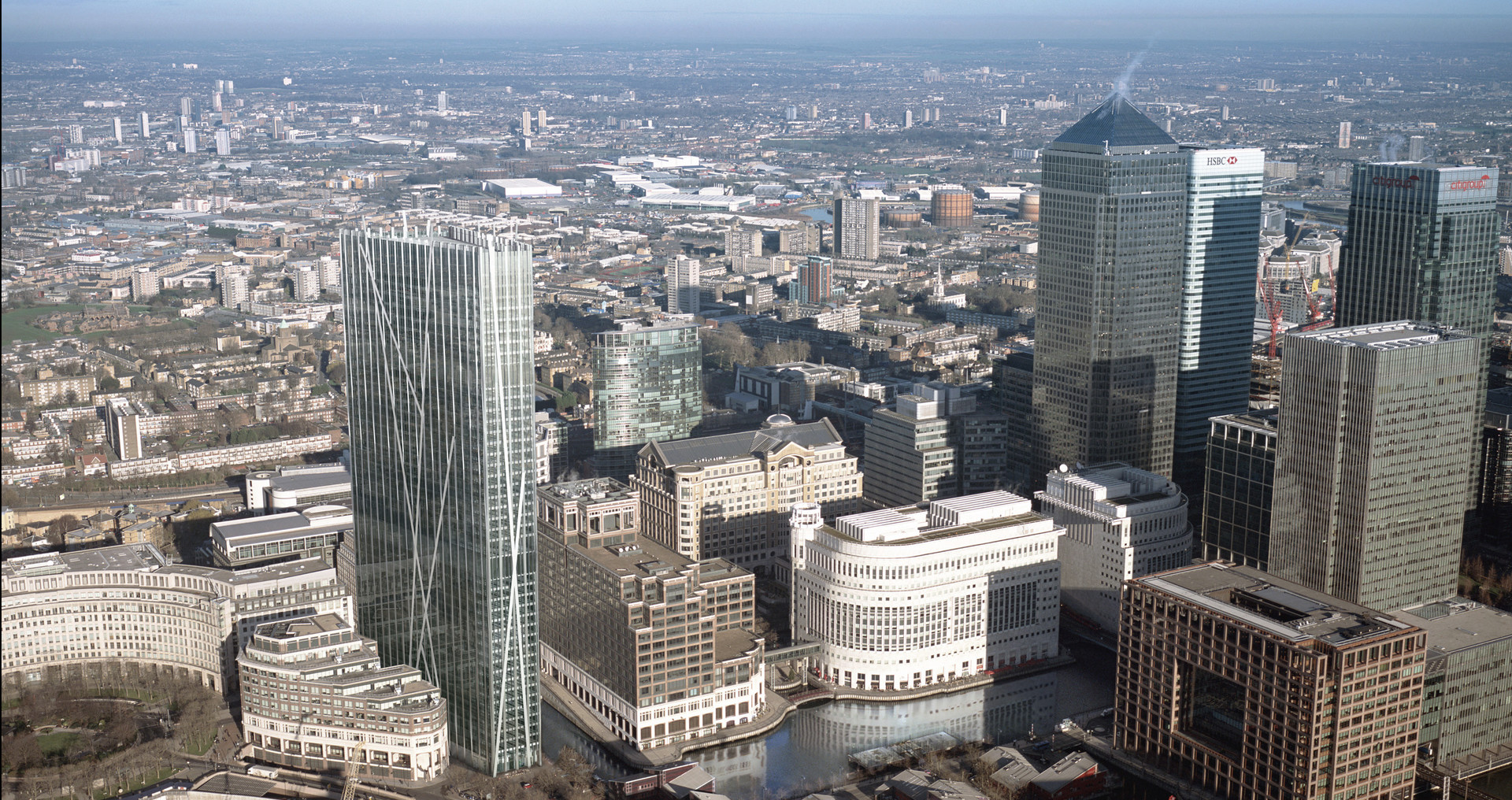 Key Information
Date: 2007
Client:  Grattan Property Development
Location: London, UK
Floors: 45
Height: 204m
Total GIA (m²): 12,478
Retail Area (m²): 418 (Plus Restaurant 634)
Office Area (m²): 11,426
Overview
HCLA obtained planning permission in 2008 for redevelopment of 1 Park Place to provide a 1,271,560 sq ft office scheme in heart of London's Canary Wharf.
The building's iconic appearance has been derived from its environmental, structural, and waterside location. It will provide a new high quality aesthetic that is easily identifiable from afar and at close range the high quality of the materials will be evident. Each façade responds to its solar orientation; the extent of clear and solid areas and solar shading is designed to maximise daylight and thermal control. The facade design expresses the diagonal structural elements that provide lateral stability. These contribute to the identity of the building which is unique amongst the more traditional orthogonal buildings in Canary Wharf.
The site is located at the western end of Canary Wharf, a prominent gateway location for Docklands. The existing office building on the site was built in 1986 provided 50,000 sq ft of office space. The site is one of few that has frontage onto the Grade I listed West India Dock. The proposed development at One Park Place has been designed to improve the public realm around the dock greatly by providing a dockside walkway enlivened with retail and restaurant facilities.
The above ground levels of the building will provide 919,370 sq ft NIA. of first class office accommodation over 45 floors, with superb views over West India dock and the wider area. Typical floor plates range in size from 20,000 sq ft up to 26,000 sq ft NIA. Floors are designed to be easily sub-divisible. The overall net to gross of the building is 72.3%.
The proposed building has an iconic design; its environmental performance has been considered from the outset to set new standards in commercial building design. Park Place will provide an exemplar of low carbon design for a city office development. Detailed analysis has resulted in the optimisation of each façade to minimise the combined energy consumption by cooling and artificial lighting leading to a very "lean" building. Overall, this exceptional building will produce less than half the total CO2 emissions of the base case office building of the London Plan Energy Strategy.
In addition to low carbon design, the building has been assessed for more wide ranging sustainability using BREEAM. It is predicted that an Excellent rating will be achieved.
Consultant Team
Planning Authority: London Borough of Tower Hamlets
Planning Consultant: GVA Grimley
Structural Engineer: O'Connor Sutton Cronin
M&E / Structural Engineer: Roger Preston and Partners
Environmental Consultant: URS Corporation
Planning Authority: London Borough of Tower Hamlets
Historic Buildings: Heritage Architecture Ltd
Surveyor: Andres and Boyd
Quantity Surveyor: Daughton & Associates
CDM: PCM Saftey
Access Consultant: David Bonnett Associates
Fire Safety: Roger Preston and Partners
Daylight / Sunlight: Drivas Jonas
Vertical Transportation: Roger Preston and Partners
Highways Consultant: WSP
Archeological Consultant: MoLAS
Aviation: Jacobs Consultancy
Model Makers: Unit 22 Modelmakers
Visualisation: Hayes Davidson